Write Music For Computer Games
---
125/week, ages 6-9, 10-13, 14+
July 15th AM, Aug 19th PM
Harness your child's energy for video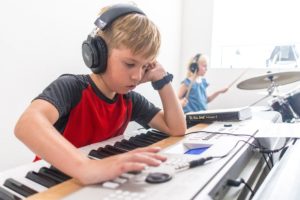 games to learn music theory! Campers will learn the basics of how to write songs that affect how people feel – the core idea behind the music for soundtracks …  even video game soundtracks. Our camps leverage the fun factor to teach music theory, or the hidden rules of how music works. Mastering these rules are some of the most helpful skills for budding musicians but often the most boring to learn. Through this camp, students will start to understand how music works, how songs are built, and how they can play the music themselves. If the student is already a musician, we'll encourage her to actually play the songs she wrote.
What You Should Do Next
To sign up, follow this link to fill out our registration form or click on the button above. To talk to us, give us a call at (503) 290-5090, email us at contact@backbeatmusicacademy.com or fill out the contact form below.

[ninja_form id=13]